When you need entertainment for your next conference, convention or special event, don't resort to anything ho-hum.
Instead book the Colorado Children's Chorale to ensure that everyone will be humming along. From an opening song to a full 90-minute concert of audience-wowing entertainment, our young performers complement any event. We will have your audience completely engaged in the innovative choreography and variety of music, inspired by our operatic and theatrical roots. The Chorale's repertoire features an eclectic selection ranging from classic to contemporary, folk to art song, not to mention a hearty dose of musical theater.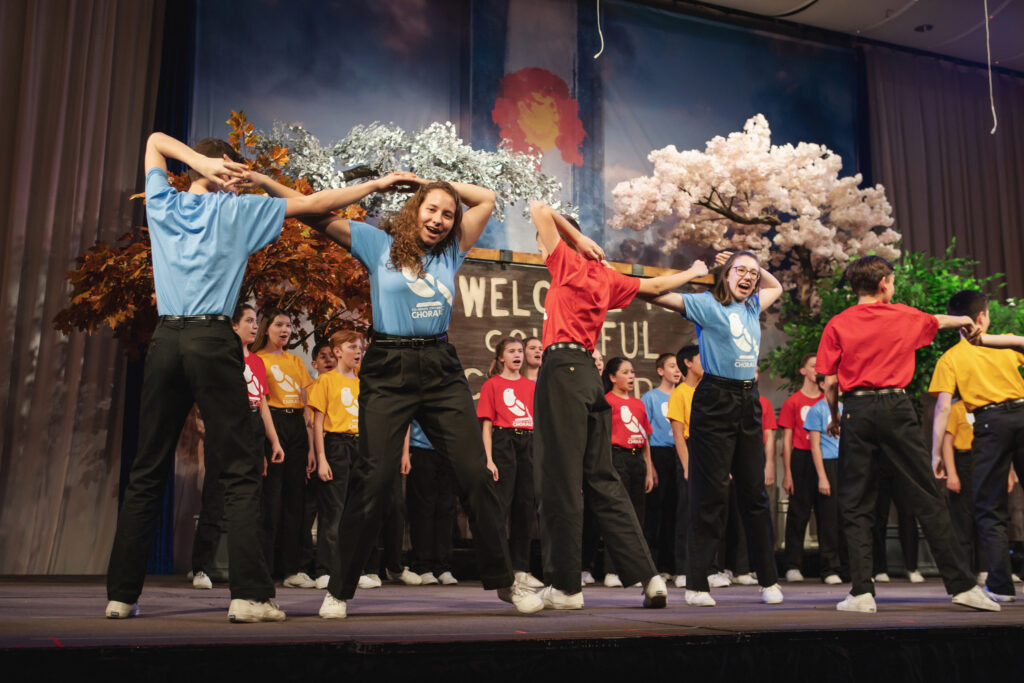 We have the flexibility to adapt to different venues, time slots and audiences.
We'll work with you to determine the best program for your event and then we'll spice things up with vibrant choreography and compelling music.
For additional information:
Frequently Asked Questions
What is the performance fee?
The performance fee for the Chorale varies due to the size and type of event, location, length of performance and choir requested. For a performance fee quote, please contact us via e-mail or call 303.854.9067.
For what type of events will the Chorale perform?
The Chorale has performed in a variety of settings, providing entertainment for civic events, professional concert series and corporate functions. Performances have included an opening song to a full 90-minute concert. We welcome the opportunity to consider your performance request. 
Is it possible to request specific music?
The Chorale has extensive repertoire from which to choose music that may be appropriate for your event and, depending on the timing, may be able to customize for a specific program.
When is the Colorado Children's Chorale available for performances?
The Chorale will accept requests for any date and time throughout the year. Because the Chorale's season runs from September through May, availability is limited June through August. Summer events require a minimum of six months notice.
Who pays to transport the Chorale?
For performances outside metro Denver, the Chorale requests the contracting organization to pay for all transportation costs. For local performances, there is no cost for transportation.
For additional information:


contact us 

via e-mail

 or call 303.854.9067.